Upcoming Events

 Wednesday, 31st December (Putrada Ekadashi):
Sayana Aarati Kirtan
by Din Bandhu Das.  8:00 P.M. 
Ram Katha By Din Bandhu Das
(in Hindi)  8:30 P.M. 
Kirtan tillmidnight.
Light prasadam will be served.
Harinam Sankirtan party will leave from temple
parking lot @ 9:30 P.M. under the leadership of Gangadhar Prabhu.

---

New Year (2015): Deity Darshan from
8:00 A.M till 8:30 P.M.
Updated Schedule:
Evening program starts with
Gaura Aarati 5:30 P.M.
Guru puja to Srila Prabhupada 6:15 P.M.
Volunteer appreciation 6:30 P.M.
Prasadam 8:00 P.M.

---
Temple Evening Programs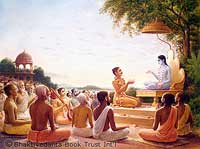 Evening Programs

---